Holgates supports local community
Holgates Engineers install Kitchen equipment, carry out Electrical Services and Boiler maintenance throughout the North West. With the office based in Scarisbrick, just a few miles away from Southport, the Engineers have visited the premises where OpenWell Life Centre is now based, several times during the last decade.
Electrician experienced in installation of Kitchen Equipment
In the December 2019, Holgates was approached by David Nickson from OpenWell in Southport, to ask if they could assist in carrying out electrical services to connect new catering equipment within the newly refurbished kitchen.  Phil Clegg, Operations Manager at Holgates met with David to discuss the requirements and carry out a survey of materials needed. Contact Holgates on 01704 880029 or email for more information.
OpenWell Church meets on a Sunday and hosts various events during the week, working with Children and Teenagers, running VIP Homeless Events and holding a drop-in session where members of the community can call in for a cup of tea and a chat. Previously, making a hot drink involved boiling the kettle several times. A new Lincat FilterFlow automatic water boiler was installed by Holgates which delivers 31 litres of piping hot water per hour, with up to 11 litres available in a single draw off, making it ideal in filling pots or pans for cooking, as well as for making tea and coffee.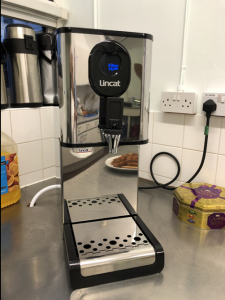 On Christmas Day, OpenWell invite members of the local community who might otherwise have been celebrating on their own, to come along and enjoy a Christmas Dinner. In 2019, thanks to the newly installed heavy duty Lincat Electric Boiling Ring with four boiling rings, David and Pam were able to cook a fabulous Christmas Dinner for over 90 people. The easy clean Stainless Steel Hob also meant that the time taken to clear up afterwards was kept to a minimum too.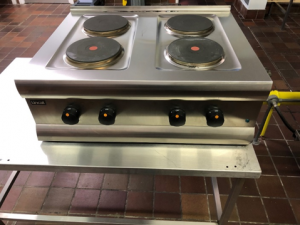 David Nickson from OpenWell said, "Having our new Electric Boiling Ring and Water Boiler fitted has made such a difference. Preparing a meal for 90 this Christmas was so much easier than in previous years, when we had to boil the kettle and work on a smaller Hob. The new Classeq Commercial Dishwasher made life easier too as it can take 18 full size dinner plates at once and only take 3 minutes to complete the load. It's really easy to operate too."
Email info@holgates-fm.co.uk for more information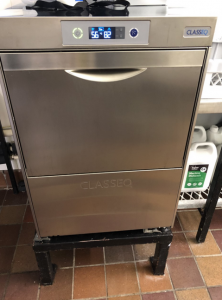 Caroline Winnard from Holgates attended the Open Day at OpenWell on 6th February 2020 and said, "I was made to feel really welcome when I attended the Open Day. Having liaised with our Engineers before and during the installation of the kitchen equipment, it was interesting to see the project after it had finished and to see how OpenWell would benefit from it."
Steve Williams, Holgates' Managing Director said, "Being an Independent business, we are delighted to be able to give something back to the local community by supporting the installation of new kitchen equipment at OpenWell."
Find our more about Holgates' services which include:
Installation, repair and maintenance of Commercial Catering Equipment, such as Ovens, Hobs, Dishwashers, Hot Water Boilers, Food Processors and Grills.
Contact Holgates on 01704 880029 or email info@holgates-fm.co.uk for more information
---