Hospitals and Clinics
Holgates' Engineers install and repair Boilers in Hospitals throughout the North West of England either as part of a pre-planned maintenance programme or on a reactive basis. We would recommend having your boiler serviced annually to ensure it continues to run efficiently. This can save energy and reduce running costs as well as keeping your boiler running smoothly and avoiding any breakdowns.
What happens during a boiler service?
During a boiler service our Engineer will remove, inspect and clean the main components within the boiler and check that the boiler fires safely. They will check the gas pressure and for any signs of corrosion or leaking around the boiler. As carbon monoxide cannot be detected by smell, they will check for carbon monoxide and ask whether an alarm has been fitted near to the gas appliances.
What are the signs that a boiler is in need of a service or repair?
If a commercial boiler starts to emit strange sounds, has low or inconsistent water pressure or the water temperature fluctuates, these are some of the signs that it is time to service the boiler. Regular servicing of gas boilers by a Gas Safe Engineer will usually prevent unreliable boiler performance which can result in being without heating or hot water. Boilers serviced annually tend to keep running efficiently for longer than a boiler which is only maintained once it develops a fault.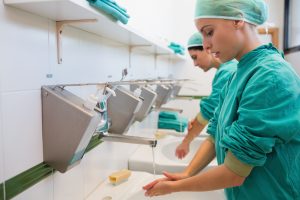 Other services Holgates Facilities Maintentance offer:
Air Conditioning  –  commonly used in a hospital to remove heat and moisture from within the building to achieve a more comfortable environment.
Hospital Kitchen Extraction Systems – to remove heat, fumes and grease from the surrounding area and introduce cool, clean air.
Installation and servicing of Hospital Catering Equipment – including Ovens, Dishwashers, Glass Washers and Grills.
Planned installation and emergency maintenance and repair of all heating, plumbing and catering facilities by our fully qualified team of Engineers
Our engineers are DBS cleared and our Company is CHAS certified.