Facilities Operative at Universities throughout the North West
A day in the working life of Steve Smith, Holgates Engineer
Steve Smith is a Holgates Engineer, contracted to the Facilities Management Department at Lancaster University, reporting to the Head of Facilities whilst on Site. Lancaster University is campus based with over 13,000 students and 3,500 employees using the facilities, so there is always plenty to do and Steve recounts that no two days are the same.
A typical day will see Steve arriving at the University at 8am, where he logs into the Portal to see which tasks have been prioritised for that day. This could vary from carrying out emergency plumbing repairs to a radiator, sink or toilet, to an annual service to one of the Unvented Water Boilers in the Science Laboratory, to testing Electrical equipment in any of the University buildings.
If there aren't any emergency repairs to carry out, Steve will continue with his programme of planned and routine maintenance and repairs. Contact Holgates for your facilities maintenance
What is the role of a Facilities Operative in a University?
Steve commented "On a typical day, I might service the Air Vents in one or more Science Laboratories, then head over to one of the kitchens in the Student Accommodation and fix a leaking tap or unblock a sink. As there are hundreds of toilets across the Site, there is frequently a toilet which isn't flushing effectively or is blocked and quite often I'll be asked to replace a broken toilet seat." Steve continued, "Another day might see me carrying out a service to the Gas Points in the Science Laboratory."
The Lancaster campus is vast, housing several commercial outlets such as bars, restaurants, coffee shops and Banks which are also managed by the University. Occasionally, Steve will be asked to carry out Gas or Plumbing repairs within the individual franchises.
Occasionally, there might be a leak coming through the roof, which could be something as straightforward as clearing a blocked gutter or drain to fix the problem. Steve always follows Health & Safety procedures and erects a safety barrier when working at height. Call 01704 880029 to speak to a member of Holgates' Customer Services Team.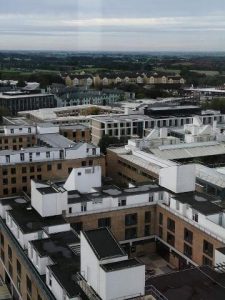 Air Handling Unit Repairs
The University is heated and kept cool by means of Air Handling Units. The filters are regularly checked and replaced when necessary. If the Air Conditioning Unit fails, Steve is called to investigate and carry out repairs. Some of the equipment in the Science Laboratory requires Chilled Water to cool them down, which Steve is qualified to install and maintain. Should a new system be required, Steve can advise on the most suitable options.
The Chemical Fume Cupboard is serviced annually and filters are replaced as and when needed on an ad-hoc basis. Email info@holgates-fm.co.uk with your enquiry.
Would your business benefit from having a full-time Holgates Facilities Engineer on Site?
The benefit of having Steve on site at the University on a full-time basis, means that Lancaster University can have repairs carried out straight away, resulting in an efficient timetable for the Lecturers and Students alike. The University can rest assured that Steve has full up-to-date Plumbing, Gas and Electrical qualifications and that Holgates ensures he keeps up to date with any necessary training and certification. Although Steve is employed by Holgates rather than the University, as he visits daily, he has developed a great working relationship with the team at the University.
Steve said: "During the Summer months when the University is closed, we will plan to carry out a full service to the Boilers in the Plant Room. This can involve changing faulty valves, re-pressurising the Boiler or draining the Chlorifier. Steve continued "We continue working at the University throughout the Summer months, ensuring that all facilities within the Student's Accommodation are working safely and efficiently. We also carry out a full inventory of the condition of each of the rooms before the Students return in the new term."
If you would like to discuss how Holgates Facilities Management could assist your University or Commercial Premises, contact our Customer Services Team on 01704 880029 or get in touch here.
Tags: Boiler installation, Boiler Repair, Boiler repair at Schools, Boiler Repair during COVID-19 Pandemic, Installing plumbing system
---