Thermostatic Mixing Valve
What is a thermostatic mixing valve (TMV)?
A thermostatic mixing valve (TMV) is a specially designed plumbing valve which is installed on the hot and cold water supply to ensure that the water is supplied at a safe temperature. TMV's are widely used in Care Homes, Hospitals, Schools and in commercial buildings to protect the young, elderly and vulnerable people against the risk of scalding from hot water in a wash hand basin, sink, bath or shower. During installation, the TMV valve will be set to a comfortable temperature between 39°C and 43°C.
  
Who can install a TMV in the North West?
Holgates Facilities Maintenance regularly install Thermostatic Mixing Valves in Hospitals, Schools and Care Homes throughout the North West in towns such as Blackpool, Southport, Preston, Chorley, Wigan, Ormskirk and Warrington. The elderly and young children under the age of five tend to have delicate, thinner skin than other age groups, which makes them more susceptible to suffering a scald or burn from hot water. Having a TMV installed in all commercial water outlets will ensure the water is supplied at a comfortable temperature which will also protect users with reduced mobility or slow reactions. 
The thermal elements within the valve allow the outlet temperature to be pre-set, so that every time the hot and cold water supply is turned on, the water is delivered at a safe temperature. Should there be a temporary loss of hot or cold water, there is a safety shut down which will operate to ensure the water does not become too hot or too cold for the user.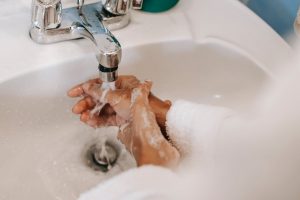 How often should you service a TMV?
TMV's should be serviced annually, or more regularly if there is a sudden change in the water temperature. Holgates recommend that TMV's are regularly maintained which includes cleaning, disinfecting and descaling to ensure they continue to work effectively.
When Holgates Engineers carry out servicing to Thermostatic Mixing Valves, they will:
Check that the water temperature continues to be set between 39°C and 43°C.
Check that the isolation valve is easily accessible
Isolate the cold water supply and check that the safety shut down is working correctly.
 Clean and de-scale the valve components
If there is a tap or shower head installed in a room which is used infrequently, the water should be flushed for a few minutes every week, to help eliminate potentially dangerous bacteria. 
Contact Holgates on 01704 880029 or by completing our contact form.  We will be happy to discuss your project and provide you with a quote to install a new system or to service your existing TMV.
Tags: Installing plumbing system, Thermostatic Mixing Valve, TMV
---