School boiler service during Lockdown
Gas safety at Schools during lockdown
It is important to ensure that planned gas safety checks continue within schools during the Covid-19 lockdown. Holgates' Engineers are operating under the Government's Safe Operating Procedures and adhering to 2 metre social distancing guidelines when visiting your premises. They will have a supply of anti-bacterial gel and wipes in their vehicles to ensure their hands are clean before entering your premises and will wipe down all surfaces which they are about to touch and have touched. They will ask you for confirmation that the job has been completed satisfactorily and then with your permission, will sign the paperwork on your behalf. Furthermore, all our Engineers are DBS checked. Get in Touch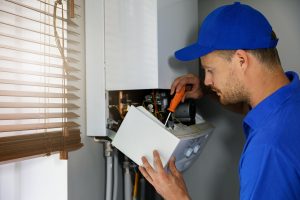 School and University Boiler servicing during quarantine
If you would like a Holgates Engineer to call and service your School, College or University boiler whilst there are fewer pupils attending school, please get in touch with us on 01704 880029. Our Engineers diagnose and repair faults to all aspects of School and College Heating systems throughout the North West of England and can discuss an upgrade to your existing system if needed.
Our Engineers are working as usual during the current Covid-19 lockdown. If you would like to pre-book an annual Gas boiler service to take place during the school Easter or Summer holidays, when it is generally more convenient to staff and pupils to have water and heating turned off, please get in touch with our Customer Services team on 01704 880029 or contact us.
Boiler installation at Schools in the North West
Holgates has a team of Engineers who are qualified to diagnose and repair faults to all aspects of Commercial heating systems. They regularly install, upgrade and repair Boilers in Commercial properties throughout the North West, with a Head Office based in St Helens.
Holgates offers an emergency repair service as well as a pre-planned regular maintenance programme. We recommend that your Boiler is serviced annually to make sure it's operating correctly. One advantage of the maintenance programme is that our Engineers can get to you know you and your premises.
Contact Holgates by email at info@holgates-fm.co.uk to book your Commercial Boiler Repair.
Tags: Boiler repair at Schools, Boiler Repair during COVID-19 Pandemic
---